Mediation
An alternative dispute resolution such as mediation with a trained mediator can often be the best course of action.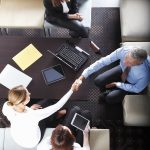 Weibrecht & Ecker, PLLC provides neutral mediation services in divorce mediation, family law mediation and other mediation needs for attorneys, their clients, and unrepresented parties looking to resolve their civil and domestic disputes without a trial in New Hampshire and Maine.
As trained mediators operating on the NH Seacoast including Dover, Portsmouth, Rye, Hampton, Rochester, and Exeter, we help parties determine their interests and goals and develop creative agreements that satisfy those interests and goals. This approach can be used in divorce mediation, family law mediation or other conflict situations.
Clients and attorneys often report that mediation as an alternative dispute resolution method is less expensive, faster, and more satisfying than trial. In addition to providing neutral mediation services, we regularly counsel clients about the benefits and limitations of mediation as a way to resolve their particular dispute. If a client chooses mediation, we will help facilitate the selection and use of a trained mediator and will participate in whatever stages of mediation preparation the client desires.
Divorce mediation allows a couple to meet with a mediator who is impartial and represents neither party. A mediator can help couples resolve issues or even reach a divorce settlement. We are available to conduct mediation sessions in Dover, NH and Portsmouth, NH or at another site of your choosing. Contact us today to learn more.