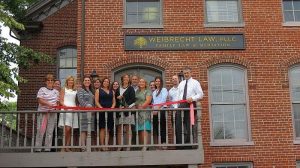 Weibrecht & Ecker is pleased to announce our membership in the greater Dover, NH Chamber of Commerce, a not-for-profit association of businesses, professionals, individuals, and organizations working together to advance the economic well-being of its members and the community. For details on Dover Chamber membership and other programs or for a schedule of activities, please call the Greater Dover Chamber of Commerce at 603-742-2218, e-mail info@dovernh.org, or visit www.dovernh.org.
Read More in Fosters: http://www.fosters.com/news/20170717/weibrecht-law-joins-dover-chamber
Our main office is located at 65 Main St., Suite 2, in Dover with a second location in Portsmouth at 155 Fleet St. For more information, call 603-842-5525 or send us an email at welcome@weibrechtecker.com.