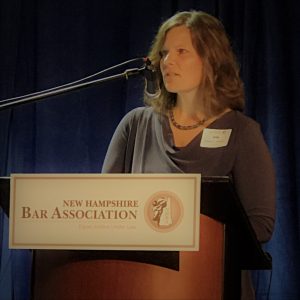 We are proud to announce Kimberly Weibrecht, managing partner of Weibrecht & Ecker, as recipient of the New Hampshire Bar Association's 2019 Vickie M. Bunnell Award for Community Service. With nearly 20 years of legal experience, she has tried and negotiated hundreds of civil and criminal cases. She graduated from Northeastern University School of Law in 1998, and from the University of New Hampshire in 1993, magna cum laude. Her work has spanned District, Juvenile, and Superior courts and includes dozens of jury trials and bench trials. She has held several positions in the NH Judicial Branch and with Strafford County and has worked as a national justice systems consultant and facilitator.
Kim is not only dedicated to learning about, and seeking training in, the alternative dispute resolution (ADR) techniques of Mediation and Collaborative Law. She has authored and contributed to several nationally disseminated justice system publications. In addition, Weibrecht has served as a faculty member for the National Judicial College as an expert on judicial policy. Locally, Weibrecht has served as board member and co-chair of the Collaborative Law Alliance of NH, co-chair of the NHBA Section of Dispute Resolution, chair of the Seacoast Collaborative Divorce Professionals, President of the Strafford County Bar Association, board member of the Charles C. Doe Inns of Court, and board member of the NH Public Defender.
Congratulations Attorney Weibrecht and thank you for continuously setting the bar high for your colleagues in the legal community!
Instituted in 1998, the Vickie M. Bunnell Award for Community Service was created by the New Hampshire Bar Association to honor the memory of Vickie M. Bunnell, "A Country Lawyer," and to applaud the community spirit that is a hallmark of our profession this award is presented to an attorney from a small firm who has exhibited dedication and devotion to community by giving of their time and talents, legal or otherwise.
For more information: https://www.nhbar.org/bar-awards/
The official announcement can be seen here.