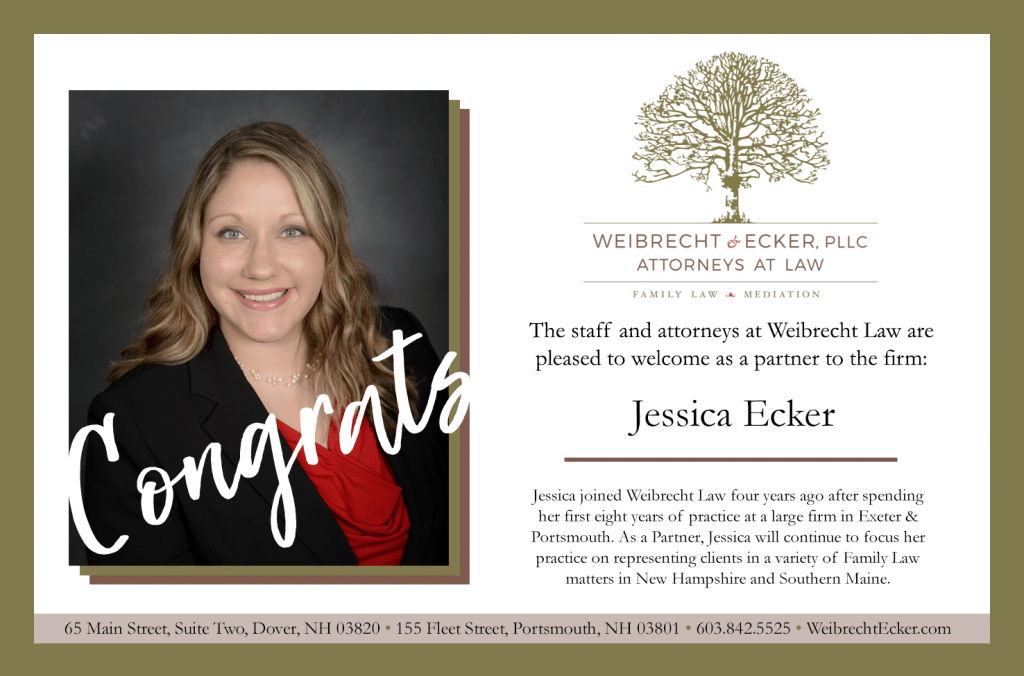 Weibrecht Law Announces New Partner, Name Change
November 15, 2018 — Weibrecht Law, PLLC, a locally recognized Seacoast Family Law and Mediation firm, is pleased to announce that attorney Jessica Ecker has been officially named as Partner. Moving forward, to reflect this partnership, the firm will be known as Weibrecht & Ecker, PLLC.
Ms. Ecker has worked with the firm for over four years on matters related to Family Law, Divorce, Mediation and Collaborative Law in both NH and Maine. Before joining Weibrecht Law, Ms. Ecker worked for a larger firm in Portsmouth and Exeter, practicing family law and other areas of practice. Ms. Ecker serves on the board of directors for the New Hampshire Conflict Resolution Association, is a member of Seacoast Kiwanis, and has been named a Super Lawyers Rising Star three years running.
"I am so excited to join Kim Weibrecht as Partner of this great firm – I have enjoyed working with the Weibrecht team over the past four years and am looking forward to assuming a leadership role. Together, we will continue to support our mission of helping to guide and advise people on their legal options as they navigate through some of the toughest times of their lives."
Kimberly Weibrecht, firm founder and Managing Partner, notes that this move is a natural next step given the contributions that Jessica has made to the firm since she started.
"Jess is a top-notch lawyer and came to the firm with a great base of family law experience and connections. She has a solid reputation and commitment to the legal community, as is evidenced by her board and governance work. I couldn't be happier to formalize what has become a solid partnership over the years, and I look forward to Jess and I building a bright future for the firm together."
The name change is now reflected online at https://weibrechtecker.com
…
About Weibrecht & Ecker, PLLC
Weibrecht & Ecker, with offices in both Dover and Portsmouth, New Hampshire, is a leading Seacoast-based Family Law Attorney with practice areas in Divorce, Mediation, and Collaborative Law, serving both NH and Southern ME. For more information on Weibrecht & Ecker, our attorneys, and how we can assist you with your legal matters, please find us online at https://weibrechtecker.com