Weibrecht & Ecker, PLLC, is a New Hampshire law firm focusing on practice areas including NH Divorce, Family Law, Collaborative Law, Child Custody issues and Mediation. Our goal as lawyers is to ensure that you get the most focused and best legal problem solving available. Whether you need an experienced trial attorney to aggressively advocate for you, or you need a lawyer with expertise in Collaborative Divorce or mediation, we bring a wealth of experience to the table. With offices in Portsmouth, NH and Dover, NH as well as licensure in the state of Maine, our NH Divorce lawyers and attorneys at Weibrecht & Ecker would be happy to help you explore your options for the divorce, mediation or family law issues in your life, ranging from child custody to same-sex marriage and divorce-related issues. We can help you to divorce, with dignity. To learn more about us, or to contact us about our Seacoast New Hampshire Legal Services, click here. Or, watch the following video to better understand your options when it comes to Divorce.
Weibrecht & Ecker are New Hampshire Divorce Lawyers and Family Law Attorneys who Can Assist with all Facets of NH Family Law, Including:
Prenuptial and Postnuptial Agreements

Divorce Counseling and Planning
Legal Separation and Divorce
Parental Relocation
Alimony and Child Support
Parenting Disputes
Mediation
Post-Divorce Parenting Agreement Modification
Collaborative Divorce
Collaborative Law
---
Weibrecht & Ecker's own Jessica Ecker has (literally) written the book on Divorce in New Hampshire! Check out "Divorce in New Hampshire, The Legal Process, Your Rights, and What to Expect" and grab a copy on Amazon! Just click the cover below or read more here.

---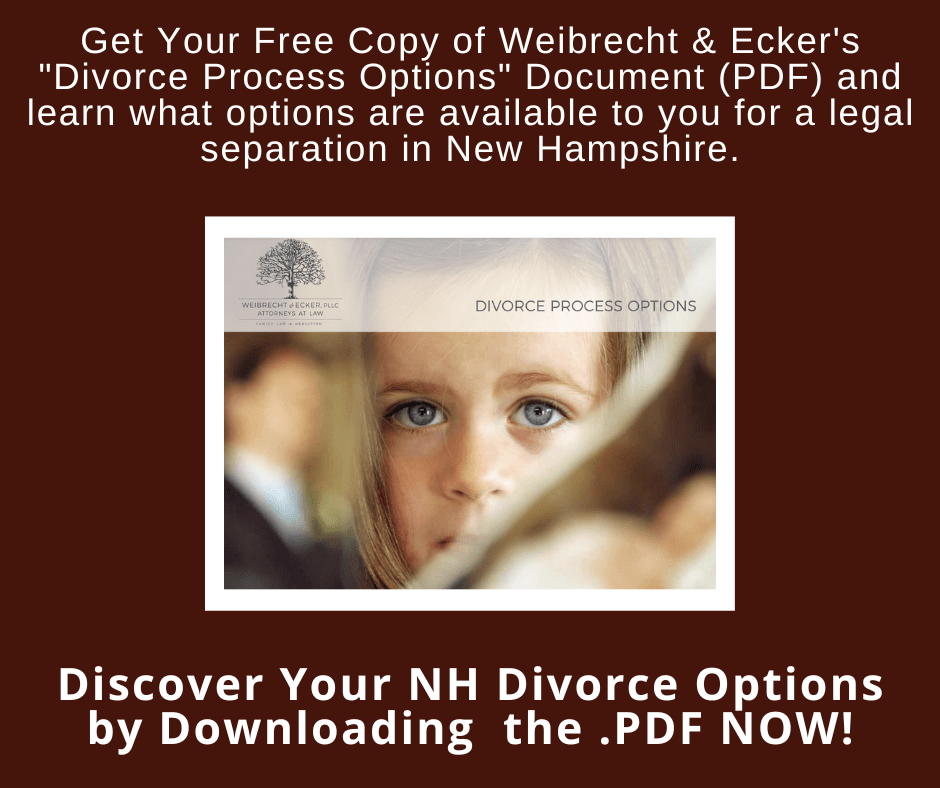 ---