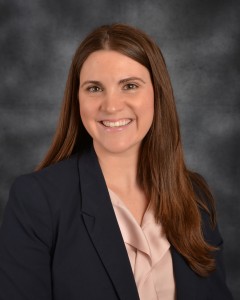 Weibrecht & Ecker Welcomes Kelly Thom, Esq. To Family Law Practice.
DOVER, NH  (June 26, 2016) – Weibrecht & Ecker, PLLC is pleased to announce a new counsel hire in their Dover, New Hampshire Office.
Kelly M. Thom, Esq., joins the firm after spending close to four years practicing law in the State of Michigan bringing experience working in criminal defense, civil litigation, real estate, elder abuse, will preparation, and probate matters. Her experience provides a unique perspective of the legal system and will complement the current legal offerings provided by the Seacoast-based Family Law Firm focusing on Divorce, Collaborative Law, and Mediation.
Ms. Thom graduated from the University of New Hampshire in 2008 and received her J.D. from Western Michigan University Thomas M. Cooley Law School in 2012.  Attorney Thom is certified in both legal and professional research, having worked for one of the leading legal research companies throughout law school. In addition, she has participated in the Innocence Project, evaluating post-conviction cases under Michigan's DNA statute for inmates claiming innocence.
Attorney Thom was recently voted in as a member of the Rockingham County Bar Association's Board of Directors and appointed as Secretary for the 2016-2017 term and is licensed in both Michigan and New Hampshire.
"We are naturally thrilled to have Attorney Thom on board here at Weibrecht & Ecker," said Kimberly Weibrecht, managing partner at the firm. "Her unique set of legal knowledge and litigation skills will be a great complement to our service offerings, and her personality is a terrific fit for our client-driven family-focused practice."
Ms. Thom is excited to be back on the Seacoast and looking forward to becoming more involved in the local community, and will represent family law clients seeking representation in mediation, probate matters, child support, litigated divorce, and/or parenting cases.
About Weibrecht & Ecker, PLLC
Weibrecht & Ecker, a full-service and family law practice (www.weibrechtlaw.com), serves its New Hampshire and Maine clients from offices in Dover and Portsmouth, New Hampshire. The firm is focused on divorce, mediation, Collaborative Law, and legal separations and serves a growing, loyal base of clients with innovative thinking and an in-depth understanding of the legal system.